Allawah Retreat Rest & Romance Package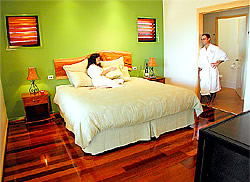 Get away from the stresses of your daily life, and share a quiet moment with that someone special with our Rest & Romance package.
Bottle of Australian chilled sparkling wine on arrival
Hearty breakfast provisions daily including fresh crusty bread. Please advise us of any special dietary requirements, eg. Vegetarian
Complimentary port and chocolates
Dinner BBQ pack (1) your choice of Seafood or Reef n Beef or Beef, Chicken and Lamb, includes everything plus ingredients for a garden salad: lettuce, cucumber, capsicum, shallots plus tomato, potato, onion, bread rolls, dressings and oils, lemon, garlic, chilli, etc. (you just cook on your deck BBQ & enjoy).
Tableland Delights gift basket — be amazed at the diversity of products created on the Tablelands
Package includes dinner for two for 1 night of your stay (1 X BBQ pack)
Gift voucher ideas to add to your Wedding Gift Register.
This special web site package only available when booked directly through Allawah Retreat.
Rest and Romance Package Rates
Rates effective to 31 December 2016.
Weekend Package rate for 2 nights per couple
A minimum 3 night stay may apply for Hideaway Spa Lodge from 1st June to 31st October (2 night stay only when available).
If you stay 2 nights mid week (Monday-Thursday night) deduct $40 from the package rate above.
Mid-Week Package rate for 3 nights per couple
Mid-Week Package rate for 4 nights per couple
Package rate for 7 nights per couple
What a way to spend our 30th wedding anniversary. Heaven- not on a stick but up in the mountains. Peace!! No barking dogs, no traffic, no mowers, no phone ringing, no planes, nothing to wake us up in the mornings. The hot bread and homemade cookies topped it off. Will thoroughly recommend and could live here forever. Many thanks for making our stay so memorable.
Mike & Barb
Mackay
Therapeutic massages $180 for two (one hour each).
Please note:
Please Note — Honeygem and Moonlight lodges are same rated and we will make every effort to offer your lodge choice but cannot guarantee a specific lodge and last minute changes may need to be made to meet booking requirements
Minimum 3 night stay applies for package
A minimum 3 night stay may apply for Hideaway Spa Lodge from 1st June to 31st October (2 night stay only when available)
Package requires 48hrs notice
Package available only when booked directly through Allawah Retreat.
GST included in all prices
As the lodges are self-contained, and to ensure guest privacy, lodges receive one basic service mid week during a 7 night stay. (Linen replacement and supplies)